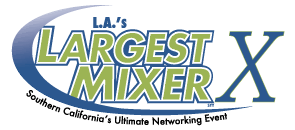 Southern California Mega Business Event Joins Chambers Of Commerce with Professionals Helping Businesses Meet New Clients 
Events, like fads, come and go, and in Southern California, if you don't have "it," then you don't have a successful event. Celebrating its 10 year anniversary,
L.A.'s Largest Mixer
not only has what it takes to survive, it's the largest and most heralded business mixer/expo of the year.
"This event is a very valuable business tool and networking opportunity," said Pat Clark, Membership Manager for the
Los Angeles Chamber of Commerce
. "Some groups have begun to plan for it well in advance because it allows them the opportunity to meet new contacts, businesses and members from neighboring communities such as Long Beach, the San Fernando Valley and Santa Monica."
Scheduled for Thursday, July 24, 2008 from 5 to 9 p.m., the event will be held at the
Shrine Auditorium Expo Center
, 700 W. 32nd St., Los Angeles, CA 90007. A $20 admission fee gives attendees the opportunity to view more than 250 exhibitors and network with thousands of local "influentials" on the cutting edge of Los Angeles' business elite.
Now in its 10th successful year, the Mixer has grown to represent a powerful meeting of Los Angeles area chambers of commerce and local businesses representing hundreds of industries and companies in Southern California. Last year, over 2800 business people came together for this ultimate business networking event.
"Last year's L.A. Mixer was definitely advantageous for our company to educate the community of what their businesses now can implement with web development," commented Michelle Fisher of
Web Solutions, MD
. "By showcasing our applications to the attendees, we were able to engage them in how effective our development & marketing strategies are, in giving them a hands on tour of several of our clients' sites. Not only were we able to familiarize ourselves with the caliber of businesses participating, we formed some immediate alliances."
Designed to be part expo and part business social event, L.A.'s Largest Mixer accomplishes both by providing an "open feel" for the exhibitor's area with conversational areas for casual one-on-one discussions with existing contacts or building new relationships.
"L.A.'s Largest Mixer provides an opportunity to 'go fishing' for leads and introductions, without feeling hesitant and uneasy," said Stephen Kramer, Founder and President of the
Miracle Mile Chamber of Commerce
, and a principal at Kramer Law Group "Everyone is there to meet and greet with no pretense."
The goal of L.A.'s Largest Mixer is to encourage membership in one or several chambers of commerce, allowing businesses to grow based on a wider network of support. Each participating chamber of commerce and business group will have a booth with representatives to answer questions about their organization. The mixer also provides a chance for businesses to network with each other for mutual support. Businesses and individuals do not have to be affiliated with a chamber to attend the Mixer. The event's format has been reproduced in other regions, including Orange County, Las Vegas and the Inland Empire.
For a complete list of exhibitors and sponsors, please visit
www.lamixer.com
or call 323-230-5656 for further information.
L.A.'s Largest Mixer X is hosted by the following organizations:
Chambers of Commerce
: Century City, Culver City, East L.A., Encino, Greater El Sereno, Greater Lakewood, Greater San Fernando Valley, Greater West Los Angeles, Hollywood, Korean American Chamber of Los Angeles, Los Angeles Area, LA Junior, Long Beach Junior, Miracle Mile, Regional Black, Santa Monica, Sherman Oaks, Swedish-American, United Chambers of the San Fernando Valley, Universal City North Hollywood, and West Hollywood.
Convention and Visitors Bureaus
: Anaheim/Orange County Visitor & Convention Bureau, LA INC., and Long Beach Area.
Business Organizations
: American Business Women's Association, Asian Business Association, British American Business Council, Downtown LA Business Improvement District, HSMAI-Greater Los Angeles Chapter, International Special Events Society - Los Angeles, Latin Business Association, National Association Of Women Business Owners-Los Angeles, Rotary Club of Los Angeles, Toastmasters International-District 52, Travel and Tourism Marketing Association, and Valley Industry and Commerce Association. The event is produced by The Dave Linden Group, Inc.